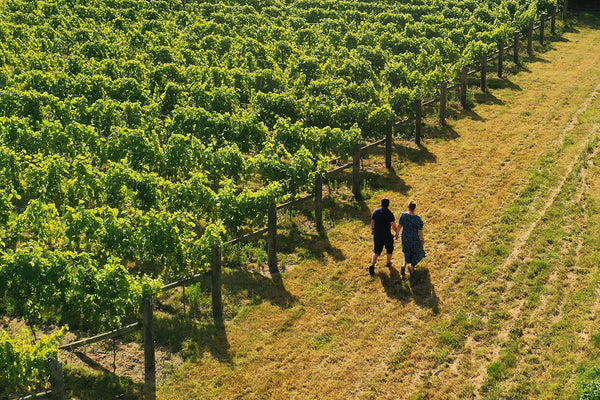 Our Story
From the Loire Valley in France, to a boutique vineyard in Waimarama, Hawke's Bay. Maison Noire is "A French taste of New Zealand".
Guillaume Thomas - Winemaker
I grew up in a small village in France, 20km south of Nantes, in the Muscadet growing region which is part of the Loire Valley. Despite my family not having any winemaking background, my neighbour and best friend was the son of a vigneron and was going to succeed his father. I have indeed been introduced in the wine world from an early age.
After high school and trying to find my way, I decided I would follow the path of winemaking, since it was a field that was blending a lot of my passions: links to nature and open spaces, science, gastronomy, history, economy, people without omitting the link to festivities and celebration.
I studied winemaking and viticulture in Bordeaux where I understood the strong links with the past, the grape varieties and the traditional winemaking techniques that inspired a lot of the modern industry. I then worked in the Loire Valley and in Pomerol, Bordeaux before starting to travel around the world.
I had my first overseas vintage in Margaret River, Australia which opened my eyes to the New World winemaking and marketing philosophy. Inspired by this experience I went back to the south of France where I studied wine marketing in Montpellier and discovered deeply the wide Rhone Valley and their sumptuous Syrah and Viognier before flying to California near the Napa Valley in 2005 and then New Zealand in late February 2006.
The Rise of a Project
I met Esther during my first vintage in New Zealand, where it turns out something special was about to happen. Indeed I had to review my plans about travelling the rest of the winemaking world because love had struck and would make me stay in New Zealand thereafter!
After working at Hatton Estate in the heart of the Gimlet Gravels and discovering the Hawkes Bay styles of Syrah, Bordeaux varieties and Chardonnay, I still went back a couple of times for vintages in the Loire, where I got to really appreciate the styles of Cabernet Franc, Chenin Blanc and Sauvignon Blanc as well as squeezing a vintage in Hungary in the prestigious Tokaj region.
My eyes and my heart were in New Zealand though, so after a vintage at Church Road Winery I started working in June 2007 at Alpha Domus Winery, where I stayed for 7 years. During this time I seriously thought of making my own wine and found out what varieties and styles I thought were good for me to produce in order to complement the vast amount of great wines throughout the country.
In 2010 we made the first move and bought a magical little plot of land on the Waimarama Road, with a sea view, surrounded by hills; we started planting with lots of native trees, shrubs and a small orchard. We also built a cottage to live in (including a small space for storing wine), then planned the space for our future projects.
This was followed by the birth of our daughter Lilly in 2012, the building of our main house in 2014 and the planting of our own vineyard in 2014 and 2015.
There is an incredible variety of micro climates in Hawkes Bay, and our own small 0.8ha vineyard on the Waimarama road, 15 minutes from Havelock North, 30 minutes from Napier and 7 minutes to either Ocean Beach or Waimarama beach, seemed perfect for our venture.
The summers are long, hot and sunny with a refreshing sea breeze in the afternoon; the winters are relatively mild with the odd frost.
Syrah and Cabernet Franc were the first varieties planted, with a trial row of Cabernet Sauvignon, and finally Chenin blanc was added, all planted with the help of our friends and family.
These varieties all have a strong connection with my own past experiences and history, and I am willing to craft them into unique styles of wines.
New Challenges
The brand Maison Noire was established in 2014, with the release of our first Rosé. It was soon followed by many more varieties with a focus of producing wines where New world meets Old world: "A French taste of New Zealand".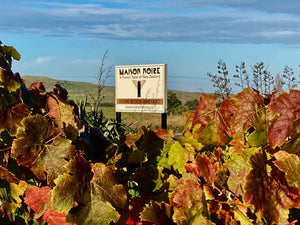 From early 2014 to 2017, I worked at The Hawkes Bay Wine Company, a contract winemaking facility in Napier. It is also the place where I currently make my wines as I have access to the equipment and can still be "hands on", especially during vintage.
We live in a black house so it seemed appropriate that we labelled our wines Maison Noire, which is French for Black House (and it rolls so beautifully off the tongue said Esther!). The font we used for the label is also French ('Bifur' from the 1930s).
We are very hands on, doing most of the vineyard work, design, marketing ourselves (with the help of friends and family). It is a truly boutique winery with wine batches not exceeding 150 cases at this stage.
The grapes are now mainly produced from our own vineyard, with a small addition of parcels purchased from growers that I have met over the past 10 years, and who can provide the quality and specifications I need to produce unique wines.
We are constantly learning and expanding our knowledge, one bit at a time, having recently created this website, started exporting our wines, presented our wines to numerous wine clubs throughout the country and developed new marketing strategies including social media.
In the near future we would like to develop our distribution network and hope to open a cellar door in the coming years.